Michael Vick could not carry this team on his back as he had in previous evenings.

Another promising season has ended too soon and left Eagles fans across the world disappointed once again. Similar to week 1 against Green Bay, the Eagles were at home and played an abysmal first half. However, rallied in the second half with a chance to win the game. Yet, Vick and the Eagles fell short once again on a game winning drive. Vick, who had in my opinion been excellent all game and sufficient at worst, threw the game ending interception to finish of the season for the Birds.
It is easy to blame Vick or Akers for choking, or Andy Reid for not sufficiently preparing his defense or offense for the game, but the truth in the end is the Eagles simply were not good enough. They could not capitalize on Green Bay's many turnovers. Their defense could not get Aaron Rodgers off the field. They could not sufficiently generate pressure to rattle Rodgers. And in the end, they could not lead another miraculous comeback to save the game, and their season.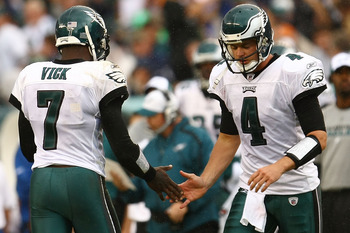 Kevin Kolb should be traded now when his value is highest.

It is tough to swallow for an Eagles fan and certainly for everyone in that locker room. After so many big games and so many big plays, against Indianapolis, Washington, and the New York Giants, it was once again all for nothing. While many would point out that the Eagles had far exceeded expectations for the season, I completely disagree. By anointing Vick as the one to lead the team over Kevin Kolb, Andy Reid was declaring a rebuilding season a competitive season. It was another Super Bowl or Bust season. And for the 50th time now, the season has been a bust.
There will be many questions to be answered this off-season. What draft picks will be made to improve the team? Will the Eagles bring in any big-name free agents? And of course, the biggest on all of our minds, how will the Eagles handle the quarterback situation?
What better way to excite fans and players once again than to sign one of the best cornerbacks in the game?

I will answer these questions in further detail as off-season progresses, but to me the answers are simple. Draft? Linebacker, Offensive Line, and defensive line, in that order. A big-name free agent to get the Eagles over the hump? Nnamdi Asomugha. Quarterback situation? Franchise Vick, and trade Kolb.
Yet of course, I am not the Eagles or Andy Reid, so it will remain to be seen how this will play out.