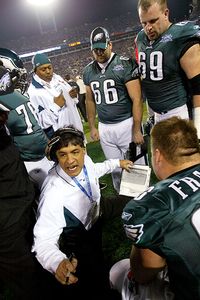 I will admit that, like all of Philadelphia, I was shocked by the Juan Castillo move and was at a loss for words. To me the move made little sense, but after slowly gathering my senses I watched the press conference on philadelphiaeagles.com and will now share my thoughts after a day to process it all.
To say the move is baffling is a gross understatement, as even Andy Reid himself mentioned in the press conference that he expected this move to be surprising to most, and it should be. Juan Castillo, despite having experience on the defensive side of the ball, has only had experience as a defensive coordinator at a high school level. In college he was a linebackers coach and he played linebacker at one point in his career. He clearly understands defense, but the fact remains that Castillo has not had any experience as a defensive coach at an NFL level.
Of course, the move is not entirely unreasonable. As an offensive line coach Juan is required to understand blitz packages very well. And he clearly does if the claims that he would talk defense with the late Jim Johnson are true. Sources around the league are attesting to his incredible work ethic and Castillo will likely get up to speed. Additionally, the addition of Jim Washburn should help to ease Castillo's job. Also, Howard Mudd, one of the best offensive line coaches in the game, should be a more than adequate replacement for Castillo.
Reid has rarely let us down in the past with his unpredictable decisions.

Still, when you put it all together, clearly Andy Reid is taking a tremendous risk that could have an impact on his tenure here in Philly. Yet, as I try to stay optimistic, I will trust Reid once again. Ever since he arrived in Philadelphia, Reid has been one of the most unpredictable coaches in the NFL. From the drafting of Donovan McNabb over Ricky Williams, the Terrell Owens trade, the signing of Michael Vick out of prison, the trade of Donovan McNabb to a divisional rival, to the anointing of Michael Vick as the starter over his long-term plan Kevin Kolb. All of Reid's gambles have paid off in the past, despite how controversial they may have been at the time.
Therefore, I will put my faith in Reid one more time that he knows what is best for the football team, even when the world scratches its head.